Alvarado Estates; A Hidden San Diego Gem
---
Jacobo Realty Group had the great pleasure of listing 4940 Armin Way in the beautiful community of Alvarado Estates. We have grown to fall in love with this community after working in the area, admiring the unique homes and researching the architecture. To show our deep respect for the post-modernist architecture in this one of a kind community we have compiled an interesting background on the community and it's founder, and most famous architect, Lloyd Ruocco.
Alvarado Estates is an exclusive hilltop residential development overlooking Mission Valley and Grantville. Alvarado Estates is the only private, gated community within the College Neighborhoods. Established in 1948, this stunning community was first conceived by noted San Diego architect Lloyd Ruocco. Initially the community was targeted for San Diego's top "professional" residents. With this in mind, an airstrip was developed at the top of the hillside to attract residents whom might own private aircraft. Sometime later, this airstrip was turned into a residential street and named Avion Street. Within Alvarado Estates some of the San Diego's most impressive examples of notable Modernist residential architecture can be found. Including homes designed by Richard Neutra, Henry Hester, and Lloyd Ruocco.
Lloyd Pietrantonio Ruocco (1907-1981) arrived in San Diego in the early 20's while still in high school. Early on, he immersed himself within the architectural community that thrived in San Diego in the early part of the last century. While a student at San Diego High School, he worked as a draftsman in the offices of another famous architect, Richard Requa. Here Ruocco was exposed to the Mediterranean styles that had become immensely popular throughout Southern California and he developed a sensitive respect for the built environment's relationship to the outdoors.
After graduating from UC Berkeley, Ruocco returned to his much loved San Diego and began to make his distinct architectural mark on the city. He assisted in the 1935 Panama Exposition that would later become San Diego landmark Balboa Park. In addition to developing Alvarado Estates, he also assisted on the master plan for the community of Rancho Santa Fe under the supervision of his high school drafting instructor Lillian Rice. Ruocco would go on to become San Diego's pioneering post-war modernist. Designing well over 100 projects throughout San Diego County, Lloyd is responsible for several projects that are considered by many to be some of the areas best examples of the period.
Ruocco believed that no level of architectural genius could equal the beauty of San Diego's natural landscape. He believed in the beauty of the trees, canyons and sky and if you have had the pleasure of being inside one of his simple wood or steel buildings you know the trees, canyons and sky of which I speak. He believed that as an architect he had a responsibility to the people, that the building's impact on the land should be as minimal as possible, and that it should be the experience of those who live and work within the structure that matters. Further, he believed structure obscured that which is most grand (see trees, birds sky above). To this point many of Ruocco's works are invisible from the street.
Below is a partial list of Ruocco's works. You can distinctly see in each one his post-modernist style, combined with his distinct appreciation for the natural beauty of the landscape surrounding each property.
Partial Project List
Arenson Residence (1970)
4727 Avion Road
Avocado Professional Group Medical and Dental Center (1971)
230 Avocado
Baranov, Nate Residence (1948)
Del Mar
Baranov, Sylvan Residence I (1948)
736 Armada Terrace, Point Loma
Baranov, Sylvan Residence II (1971)
3576 Via Las Flores
Barwick Residence (1955)
Designed by Lloyd Ruocco
3260 Kenora Drive
Bauman, Mr and Mrs Henry Residence (1955)
3615 Dorothy Way
Beers, Mr. & Mrs. Wm. N. Residence (1954, 1964)
631 N. Crescent Drive, Mission HIlls
*Residence Remodel & Addition for Mr. & Mrs. W. Beers by Lloyd Ruocco dated July 24, 1964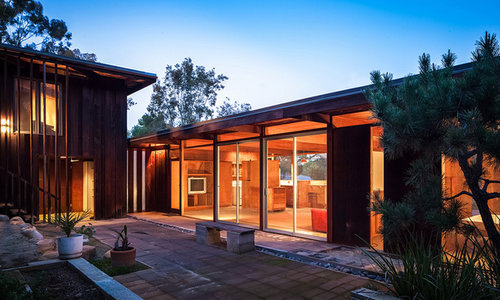 The Beers Residence
Burnett, George Residence (early '60s)
3223 Zola Street, Point Loma
Burnett, William Residence (1971)
3576 Via Flores, Point Loma
California Exposition (1935)
Balboa Park
California Steel Building (1965)
Main Street
Chernoff, Howard and Melva Residence (1962)
4522 Trias Street, Mission Hills
City Concourse Plaza (1964)
Front Street, Downtown
Clitsome Residence (1938)
South Park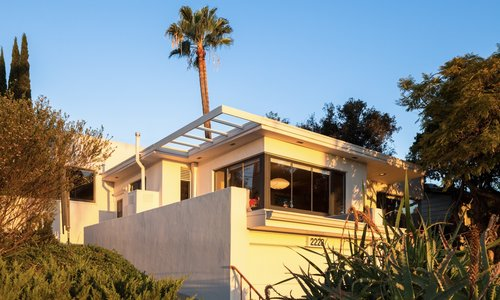 The Clitsome Residence
Cole Residence (1952 )La Mesa
County Admin Building. (1933)
1600 Pacific Coast Highway
Design Center, The (1949)
3611 5th Avenue, Hillcrest
Edel Residence (1963)
1317 Windridge Drive, El Cajon
Feller Residence (1962)
3377 Charles, Point Loma
Garden Villa Exposition House (1953)
Balboa Park
*temporary exposition house, later rebuilt as part of Solari
Greene, Ethel Residence (1946)
Helix Street, Spring Valley
Grossmont Spec House (1969)
5609 Lakewood Drive, La Mesa
Also referred to as the Ishikawa Residence . Demolished
Herrera Residence (1970)
1108 Dawnridge Ave, El Cajon
Hillside House (1960)
3343 Poe Street, Point Loma
Holmgren, Richard Residence (1948)
10037 Ward Lane, Mt. Helix
Institute of Geophysics & Geoplanetary Sciences (1964)
8602 La Jolla Shores Drive, Scripps Institution of Oceanography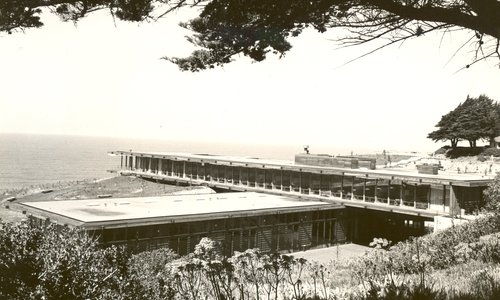 Institute of Geophysics and Geoplanetary Sciences
International Center (1971)
UC San Diego
Jacobson, Mr. & Mrs. Isadore Residence (1948)
9175 Lavell Street, La Mesa
Jackson, Marvin Residence (1949)
4421 Mayapan Drive, El Cajon
Jones, Mr. Burton I. Residence (1949)
9830 Edgelake Drive, La Mesa
Kaye, Peter Residence (1956)
240 Ocean View Avenue, Del Mar
Keller Residence #1 (1942)
3039 F Street, National City
Keller Residence #2 (1947)
1433 Puterbaugh Street, Mission Hills
Keller Residence #3 (1963)
9405 La Jolla Farms Road, La Jolla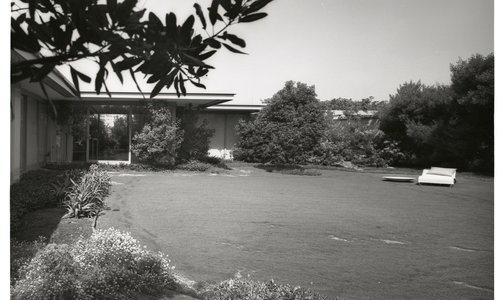 The Keller Residence #3
KOGO-AM/FM/TV (1958)
47th & Highway 94, San Diego
Lange, Mitchell & Marian Residence (1951)
6051 Folsom Drive
Lemon Avenue Elementary (1957)
8787 Lemon Avenue, La Mesa
Libby Residence (1965)
La Jolla
Lillie Residence (1958)
4410 Carmen Drive, Mt. Helix
Mills Office Building (1964)
4th & Nutmeg
Mitchell, Alfred Residence (1937)
1500 Block 31st Street, South Park
Montgomery Memorial Park (1962)
Nelson Residence (1958)
630 N. Crescent Drive, Mission Hills
Pioneer Congregational Church (1966)
4905 Jellett /2550 Fairfield Street, Clairemont
Burke, Mr. and Mrs. Jack Residence (ca. 1960)
2322 Hartford Street
Designed by Ruocco & Delawie
Private Residence (1954)
1440 Puterbaugh Street, Mission Hills
Private Residence (1972)
Toyon Road
Private Residence (1950)
4351 Ridgeway Drive
Private Residence (1945)
7100 Lakewood Drive
Private Residence (1962)
7245 Rue de Roark
Private Residence (1950)
MaryLouise
Private Residence (1952)
3252 Hawk Street, Mission Hills
Cole Residence (1952)
Briercrest neighborhood, La Mesa
Private Residence
2417 Pine Street
Private Residence (1959)
2021 Rodelane Street
Private Residence (1949)
Arnott
Rabinowitz Residence (1952)
2034 Sunset Drive, Mission Hills
Robertson Residence (1942)
4245 Randolph, Mission Hills
Roberston, Tom Residence (1947)
3920 Pringle Street
Ruocco Residence #1 "Il Cavo" (1945)
1900 La Sievida, La Mesa
Demolished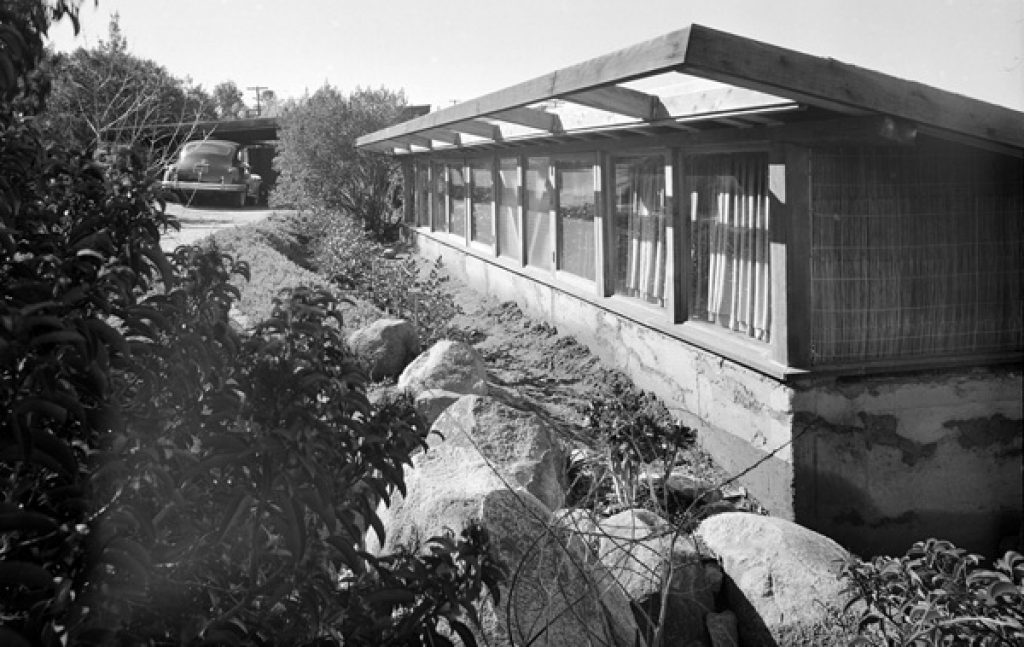 Ruocco Residence #1
Ruocco Residence #2 Solari (1958)
5481 Toyon Road, Alvarado Estates
Salik, Mr and Mrs Charles Residence (1957)
2110 Guy Street, Mission Hills
Sanborn Residence (1949)
Point Loma
San Diego Children's Zoo (1957-1961)
Children's Zoo Entry Dome (1955)
Park Boulevard
San Diego Civic Theater (1965)
1100 Third Avenue, San Diego
Security First National Bank (1961)
Carlton Hills Road, Santee
Shelton Residence (1964)
1100 Oxford Avenue
Southwest Onyx & Marble Co. (1966)
Crosby Street, National City
Spitzer, Lillian Residence (1949)
7256 West Point Avenue, La Mesa
St. Andrews Episcopal Church (1963)
1050 Thomas Street, Pacific Beach
St. Phillips Episcopal Church (1962)
Hardy Road
Upas Garden Apartments (1960)
1740 Upas Street, Hillcrest
Designed by Ruocco & Delawie
U.S. Navy Lounge & Bar (1966)
Ream Field
Watts Office Building (1964)
2970 Main Street
Wexler, Sidney & Henrietta Residence (1964)
10088 Sierra Vista, Mt. Helix
Wing Monument (1946)
Border Field Park
Yates Residence (1959)
15187 Las Planideras Road, Rancho Santa F